It has been reported that after contacting the hacker organization, relevant personnel learned that the group had a loophole that allowed it to take over the Twitter account, but this statement has not yet been confirmed.
In addition, a spokesperson for the hacker organization stated that the targeting of the Director of the National Aeronautics and Space Administration this time is not politically motivated, but purely for fun. The reason for targeting NASA directors was purely by chance and randomly selected.
Interestingly, the organization claimed that the attack was simply trying to prove to the public that no one is safe online.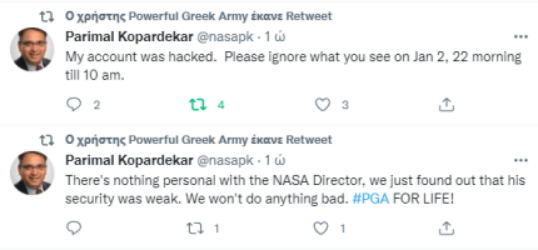 Hackers have committed many crimes
The organization has committed many crimes. It is reported that in April 2020, the Greek hacker organization destroyed the Twitter account of the deputy speaker of the Greek parliament and KINAL member Odyssey-Konstantin-Plosnin.
After obtaining account permissions, he left the following message, "Warning the government not to lie to the people of the country", and then released another message saying: hereby declare that the organization has no opinion on the attacked person, but has opinions on the government and its actions.".
It is understood that the Greek hacker organization has launched a large number of cyberattacks since its establishment. The victims include the Nigerian Ministry of Foreign Affairs and Finance, the Bank of Nigeria, the National Bank of North Macedonia, and the Azerbaijani Ministry of Defense.